MSP and RPO solutions are used by companies to reach and retain quality talent. Organizations have to be agile and resourceful with their acquisitions strategies to keep up with today's blended workforce. Leveraging the expertise of workforce management solutions providers allows companies to expand their reach in sourcing the right people at the right time for job vacancies. Here is a clear explanation of MSP and RPO recruitment models and their differences.
What is MSP?
A managed service provider (MSP) is a third-party company that manages an organization's entire contingent workforce program from recruiting and onboarding to payroll and invoicing. The MSP relies on a vendor network for sourcing candidates for temporary, contract, and freelance positions. A one-to-one vendor management model is used between the provider and the end client. An MSP can be viewed as a liaison between vendors and a client.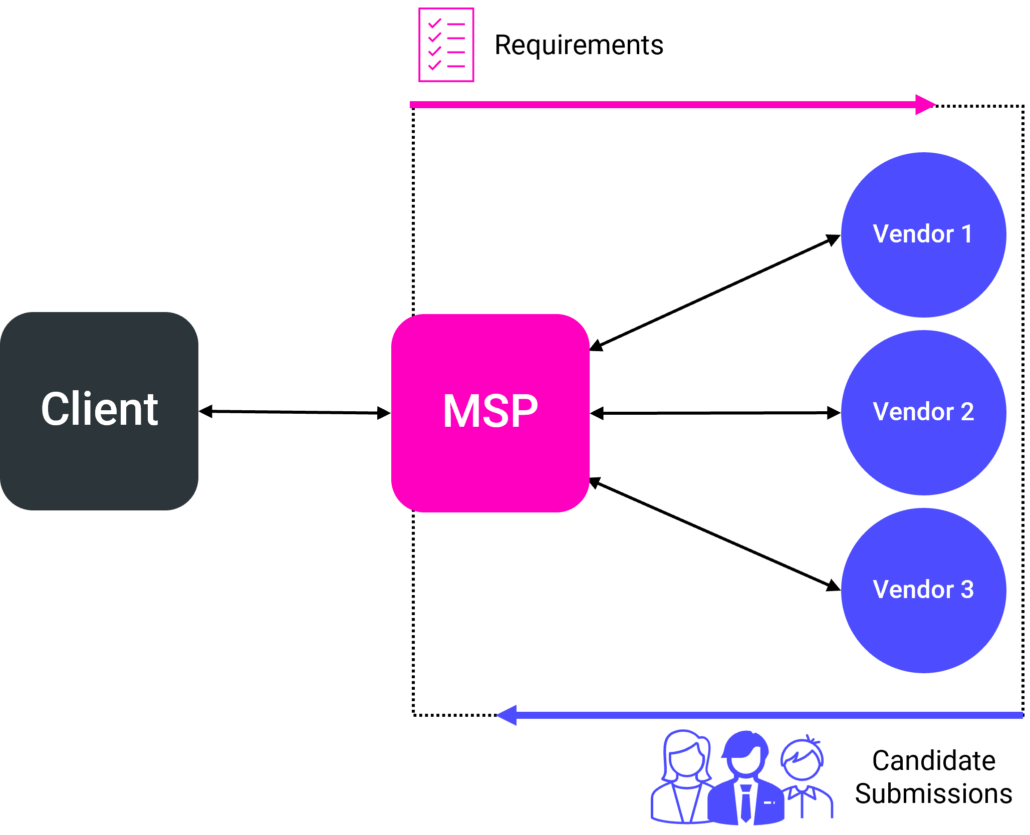 The goal of an MSP is to streamline the contingent workforce management process, reduce expenses, and improve efficiency. MSPs often use technology platforms to manage the process, which can include vendor management systems (VMS), applicant tracking systems (ATS), and other tools.
What is RPO?
A recruitment process outsourcing (RPO) provider is a third-party that manages an organization entire internal recruitment process. This can include everything from sourcing candidates and conducting interviews to making job offers and onboarding new hires. The RPO provider relies on its own network to source candidates for permanent positions directly with a company. A one-to-one candidate delivery model is used between the provider and the end client. The RPO model enables direct communication.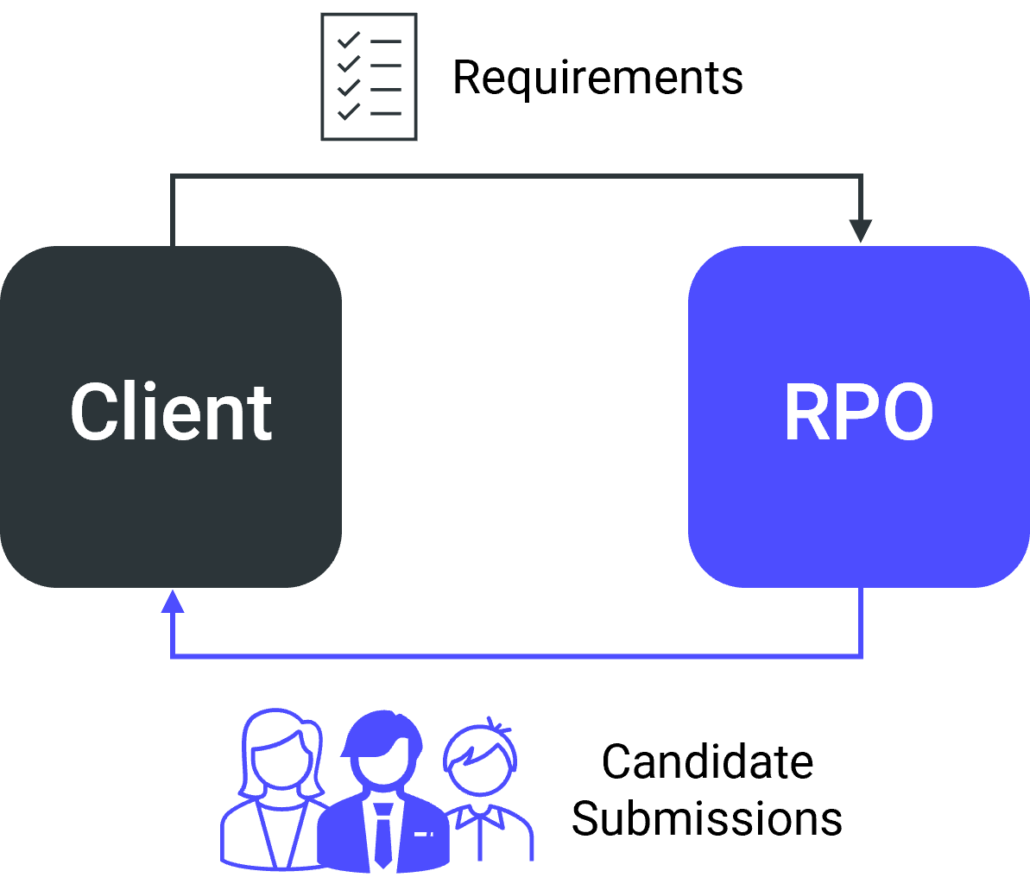 The goal of an RPO provider is to improve the quality of hires, reduce time-to-hire, and lower recruitment expenses. RPO providers often have expertise in specific industries or job functions and can provide a range of recruitment services, from full cycle recruiting to targeted sourcing.
Differences between MSP and RPO
While MSP and RPO are both third-party services, there are some key differences between them. MSPs are typically used by organizations that have a large contingent workforce, such as those in the manufacturing, healthcare, or logistics industries. RPO providers are used by organizations of all sizes and industries that need help with their permanent hiring process.
Another key difference is that MSPs focus on managing the entire process, while RPO providers may offer specific services. For example, an RPO provider may only provide sourcing or candidate screening services, while an MSP would manage the entire contingent workforce process.
MSP

Specializes in one-to-one vendor management for the contingent workforce.
Sources candidates through multiple vendors (third party staffing networks).
Assumes responsibility of the entire contingent workforce process, including administration and supplier management.
Assigns the end client a dedicated onsite program manager.
Job requests are sent to the dedicated program manager to disburse across multiple vendors.
RPO

Specializes in one-to-one candidate delivery for the permanent workforce.
Sources candidates independently through its own network.
Assumes responsibility of part or all the recruitment process.
Supplements the end client's HR department with a dedicated recruitment team.
Job requests are sent to the dedicated recruitment team to find best candidates per job requirements.
What is right for you?
Determining whether an MSP or RPO provider is right for your organization depends on your specific needs. An MSP solution provides access to many vendor sources for contingent placement to expedite fill rates and mitigate contract management risk. A dedicated program manager helps streamline management of your contingent workforce through the management of vendors, contracts, rate benchmarking, and compliance. If you have a large contingent workforce with a high volume of positions to fill, an MSP may be the best option for managing the process.
An RPO solution helps find highly qualified candidates for internal positions and reduce turnaround costs. Some positions may require specialized expertise to accurately source candidates. For example, filling engineering and IT positions requires knowledgeable technical recruiters to accurately qualify candidates based on functions. If you need support with your permanent hiring process, an RPO provider may be the best choice.
In conclusion, MSP and RPO are two common third-party services used in recruitment. While they have some similarities, the primary difference is that MSP manages the contingent workforce, while RPO manages the permanent hiring process. To determine which one is right for your organization, it's important to evaluate your specific needs and goals.
About Zobility
Zobility, an RGBSI brand, focuses on providing innovative talent management solutions within the mobility and high-technology sectors. A range of our services include staff augmentation, managed service provider (MSP), vendor management (VMS), recruitment process outsourcing (RPO), and payroll administration.
Interested in MSP or RPO solutions?
Learn more about MSP services
Learn more about RPO services
Download Talent Management Solutions Booklet